CDC Reverses Mask Guidelines for Vaccinated People in Places with High COVID-19 Transmission
On July 27th, the CDC reversed their indoor mask policy for fully vaccinate people and children in places with high COVID-19 (Delta variant) transmission. They advise fully vaccinated people and children to wear masks indoors. You can read the CDC's "Guidance for Implementing COVID-19 Prevention Strategies in the Context of Varying Community Transmission Levels and Vaccination Coverage" here.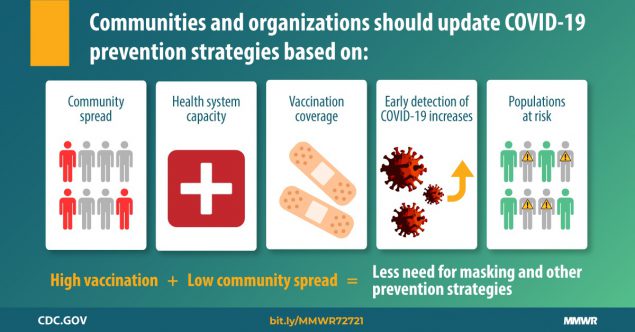 On July 30, the CDC released the findings from a recent study on COVID-19 vaccine breakthrough infections associated with large public gatherings. The study's findings informed the CDC's recent reversal of their mask policy guidelines and the CDC issuing guidance to communities and organizations on updating their prevention strategies.
The study was conducted in Barnstable County, Massachusetts, in July 2021, following a recent outbreak of COVID-19 infections from multiple large gathering events. The study found that 74% of the new COVID-19 cases occured in fully vaccinated persons. Further testing revealed that 90% of the new cases came from the Delta variant. The study's findings suggest that the Delta variant can produce the same amount of viral load in both fully vaccinated persons and unvaccinated persons if they are infected, making it a highly infectutious and transmitable COVID-19 variant. Although vaccinated persons are less likely to catch COVID-19, as confirmed by experts, this study suggests that infected vaccinated people can transmit the Delta variant to others, too.
You can read the CDC's report on the study's findings here.