2022 IFDF Annual Conference - Outstanding Lineup of Exhibitors at Trade Show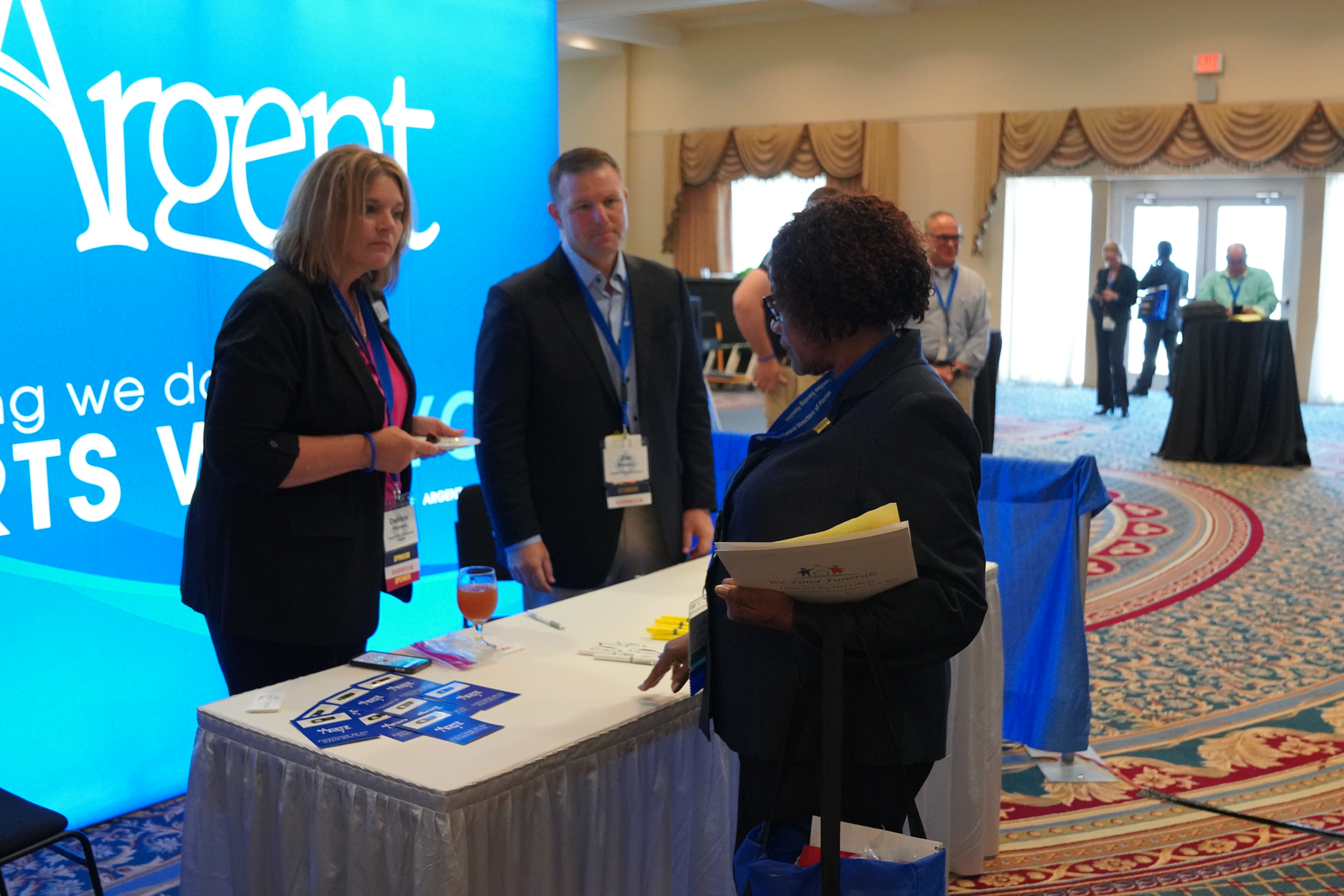 2021 IFDF Trade Show
---
Outstanding Lineup of Exhibitors!
---
We are pleased to offer a Trade Show with an impressive lineup of exhibitors - total of 42 suppliers! You will have ample opportunity over three days to visit with suppliers and learn about new innovations, products, and services for funeral establishments and professionals. Bring your business cards to enter suppliers' raffle drawings.
---
Wednesday, June 8, 6-7 pm - Opening Reception with Exhibitors.
Thursday, June 9, 2-5:30 pm - Exhibit Hall Open (2-hour CE Credit)
Friday, June 10, 10 am - 3 pm - Exhibit Hall Open (2-hour CE Credit)
---
You will also be able to network with suppliers during the meal functions and extra happenings.
---
If you are unable to attend the full conference, but want to attend the Trade Show, we are offering Thursday Trade Show Only entrance tickets for $50 by May 31, or $100 after May 31. You can also attend the Friday Trade Show for free with a Friday Trade Show Only Voucher distributed by the exhibitors prior to the conference. (Please reach out to your favorite supplier for a voucher.) Friday's Trade Show is also free to students.
To register for conference or for the trade show, please click on the button below:
---
Click here to register for the conference or trade show
---

List of Exhibitors
(as of 6/8/2022)
---
Accident Cleaners & Restoration
Air Esscentials
Argent Trust Company
Ambulance Coach & Sales
Astral Industries
Batesville
B&L Cremations
Cardinal Casket
C&J Financial
Cooperative Funeral Fund
Crain MM Sales
Direct Recycling Systems
Doric Products
Eterna Urn Company
Eterneva
Federated Fiducial
Federated Insurance
Florida Department of Financial Services
Forever Young Creations, LLC
Great Western Insurance Company
Hartwood Preserve Conservation Cemetery
Heaven's Gain Ministries
Homesteaders Life Company
Johnson Consulting Group
Legacy Touch
Life Celebrants International
LifeNet Health
Matthews Aurora
Messenger LLC
Nan Fowler Distributor
Positive Urns
Precoa
Premier Preneed Marketing
Shiva Shade
Starmark of Florida
Theautopsydoctor.com
The Davis Whitehall Co.
The Dodge Company
Tribute Displays
Trinet
US Cremation Equipment
We Fund Funerals
We Wrap Caskets
Whitmore Agency
Wilbert Funeral Services/Pierce Chemical
---
Click here to register for the conference or the trade show
---